LEGALIZATION OF CONSULTANTS/CERTIFICATION OF CONSULAR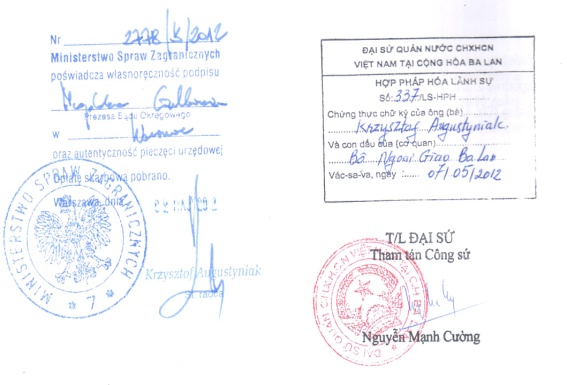 Consular legalization is an administrative procedure with the function of confirming the value of a foreign public document, checking the authenticity of the signature on the document and the status of the person signing the document. .
When the nationals of a country want a public document issued by the authorities of that country to be valid in another country, or conversely, a document issued by the authorities of another country , for example the country where the citizen resides, wants to have effect in that country. In such cases the document should be recognized by the authorities of the State where it has or wants to have legal force.
 According to Decree No. 111/2011/ND-CP on consular certification and legalization consul.
+ Circular No: 01 /2012/TT-BNG, guiding the implementation of a number of provisions of the Government's Decree No. 111/2011/ND-CP of December 5, 2011 on consular certification and legalization.
Consular legalization: is the certification of seals, signatures and titles by a competent Vietnamese agency on foreign papers and documents so that such papers and documents can be recognized and used. used in Vietnam.
Consular certification and legalization is just certification of seals, signatures and titles on papers and documents, not certification of content and form of papers and documents. .
Consular legalization of judicial records No. 1 for international students
How to legalize the number 1 criminal record card in Vietnam for international students. A document issued by Vietnam that is consularly legalized for use abroad and accompanied by a translation.
Steps:
Step 1: Prepare documents after receiving criminal record card number 1 (LLTP form)
Step 2: Consular certification procedures for consular certification at Vietnamese diplomatic missions (Consular Department or Department of Foreign Affairs, etc.). This means that the Vietnamese diplomatic mission will stamp your LLTP certificate to confirm that your LLTP is indeed issued by Vietnam. Components of the application for Consular certification The application is made in 1 set, including:
+ 01 complete declaration form, use only one color of ink, do not erase.
+ 01 photocopy of the applicant's identity card or passport.
+ LLTP form (original) and a photocopy for your records.
– If the foreign side requires you to consular legalize the translation of the LLTP form, you must submit a notarized translation for consular certification.
Step 3: Bring the LLTP slip with the stamp of the Vietnamese diplomatic mission to the Consular Office – the foreign representative office in Vietnam to carry out the consular legalization procedure. At that time, the criminal record card is already valid for use abroad.
Composition of documents for consular legalization
+ Application for consular legalization (sample provided by each agency)
+ Original copy of Judicial record card with stamp of Vietnamese diplomatic mission
+ Translation of Judiciary record card with stamp of the Vietnamese diplomatic mission (if there is a request for consular legalization of the translation)
+ 01 photocopy of documents required for consular legalization for record keeping. When submitting the application, remember to bring your ID card/passport to present (if applying in person)
How to submit documents at a foreign representative office depends on the regulations of each agency.
Contact Khanh An Translation Company for more information.
---
TRANSLATION CORPORATION – VISA – LEGAL KHANH AN
Add:              85 Mau Than Street, Xuan Khanh Ward, Ninh Kieu District, Can Tho City
                      (Next to Buu Tri Pagoda, Rach Ngang Bridge 1)
Tel:               02923 734 995            Zalo:      0842 224 254
Mobile:         0842 224 254             Email:    dichthuatkhanhan@gmail.com
Facebook:    https://www.facebook.com/dichthuatkhanhancantho
Website:       http://dichthuatkhanhan.com